GSA IT 70 Schedule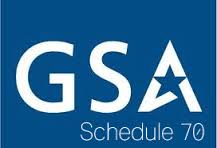 IT Schedule 70 offers federal, state and local governments innovative solutions to their information technology needs.

Below are IT Schedule 70's Solutions and Special Item Numbers (SINs) categorized based on government mandates, industry evolution, and buying trends. All of the items below are available to state, local, and tribal governments through the Cooperative Purchasing Program.

Cloud IT Services
Cloud computing is a model for enabling convenient, on-demand network access to a shared pool of configurable computing resources (e.g., networks, servers, storage, applications, and services) that can be quickly provisioned and released.

Cyber Security
Our contracts help you comply with mandates and guidelines by supplying products and services that offer identity management, information assurance, and anti-virus support.

Data Centers and Storage
IT Schedule 70 can meet your data center needs, including consolidation, modernization, and transformation; computer and network systems integration analysis and design; data center design; and disaster recovery. Many of our industry partners are self-certified as data center services providers.

IT Mandates and Initiatives
Federal, state and local government agencies depend on IT Schedule 70 to provide the most advanced support in offerings for government mandates and Presidential initiatives such as: Satellite Services Federal, state, and local governments rely on commercial satellite communications to maintain essential and secure communications, particularly for emergency responders, disaster recovery teams, and war fighters. Benefits include quick development for domestic emergency response communications, operations and service variety, and surge capacity for military communications.

Telecommunications, Wireless, and Mobility
GSA offers a full range of end-to-end wireless solutions from mobile, fixed and broadcast services to applications such as emergency response, distance learning, Internet access, and much more: Telepresence immerses federal agencies in a true-to-life, virtual meeting experience that includes life-sized displays, dedicated high-speed connections, high-definition video, and directional audio.